06.01.2009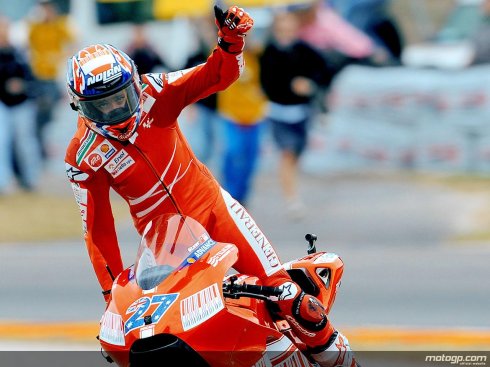 Mugello, as the case at Le Mans, started with a wet track, though the rain had stopped. These conditions lead to a dry line forming on the track after several laps, necessitating tire change. Wet/dry of races are always sloppy. Those who change tires too soon, low side (Rossi, at Le Mans). Those who wait too long, lose their position, because the early changers are eating 4 seconds out of their lap times.
Sunday's race was no different. With the wet tires, the unlikely her Melandri actually led the race for several laps in front of the Italian Crowd. After the entire field had pitted to change bikes (shod with race slicks), Stoner was on a mission. He was able to get in first position and make it stick. Melandri could not get his bike dialed in with the dry tires and started sinking like a stone, through the order. There was a bit of  a battle at the front between Dovizioso and the leaders. But Dovizioso, also, could not keep up the pace, and eventually dropped into fourth position, as he was overtaken by Rossi for the final podium spot, with 3 laps to go.
Lorenzo lowsided in the warm up lap, had a terrible start, on his back up bike, and still managed to end up finishing second. This phenominal effort on Lorenzo's part, earned him the spot back at the top of the world championship points. Full results can be found here.
The podium order was Stoner, Lorenzo and  Rossi. Caprirossi finished right behind Dovizioso in 5th place, which was a phenomenal result for a Suzuki factory bike.
Pedrosa crashed out with a nasty highside, after his slicks were still warming up. He appears to have re-injured a pre-existing hip injury.
The next race is June 14, in Catalunya, hopefully on a dry track!