05.03.2010
Sunday morning, we were up at the crack of dawn, for a bike ride. It was such amazing weather. We just pretty much stuck the to the usual and headed down the Hudson River path going south. Early in the morning, we pretty much had the park to ourselves. It was really quite amazing. As we approached mid-town, it was a bit of a zoo. There were two cruise ships at the docks, that appeared to be preparing to depart. So there was a ton of traffic coming in and out of the terminals.
As we were passing the Circle Line piers, we heard a loud crunch/crash, directly behind us. I hit my brakes and turned around just in time to see a dudes bike come flying out from underneath the cab that he had just been hit by. I dropped my bike and ran over. He was able to roll out from under the cab, which I took as a good sign, especially given the fact that he wasn't wearing a helmet. Reagan was on the phone with 911, as some police officers showed up. It was a  pretty nerve racking experience. It was pretty scary, but luckily it wasn't worse.
After the incident, we continued downtown, and had brunch at the North Cove Marina, before lounging a bit at the Battery Park City Promenade, and heading back up town.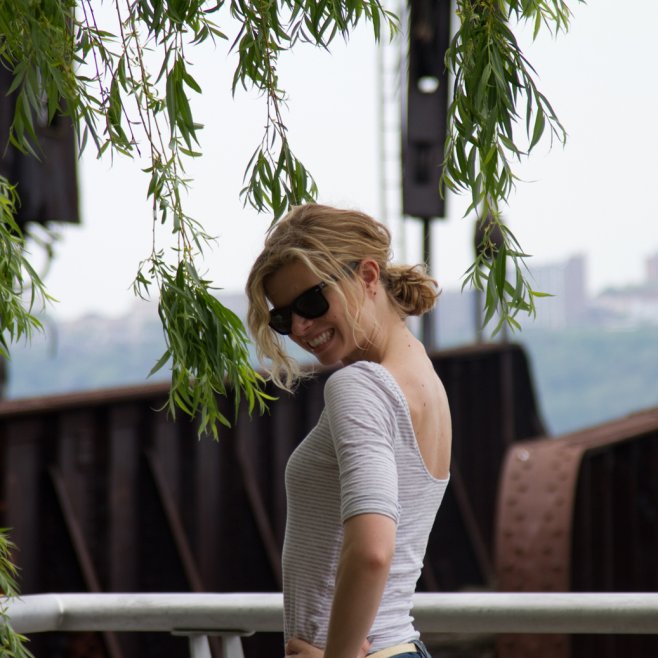 After the bike ride, we headed up to visit Piper. She was in a foul mood again, Sunday, until I let her watch some ukulele videos on my phone. For whatever reason, that was all she needed. After watching one or two, she was all smiles and party-time.
We tried her out in the chair again, too. Since she was in a better mood, it seemed like she sort of liked it. Although, she still clearly preferred Reagan's lap, understandably hehe.
Later Sunday evening, we had the really fun opportunity of visiting our friends, and their brand new baby, at the hospital. Their little guy is super cute. He was in a pretty mellow mood, too, considering the fact that we interrupted his lunch, when we arrived. Reagan enjoyed holding the little guy, and I enjoyed watching.
I didn't mean to post so much this morning. But I woke up early to move the car, and run (which I intentionally park on a Monday side, last night, so that I would have to get up), and it is pouring outside. So, the running part, didn't really workout for me, this morning.