03.18.2011
Two posts in a row bearing titles that begin with the word "happy."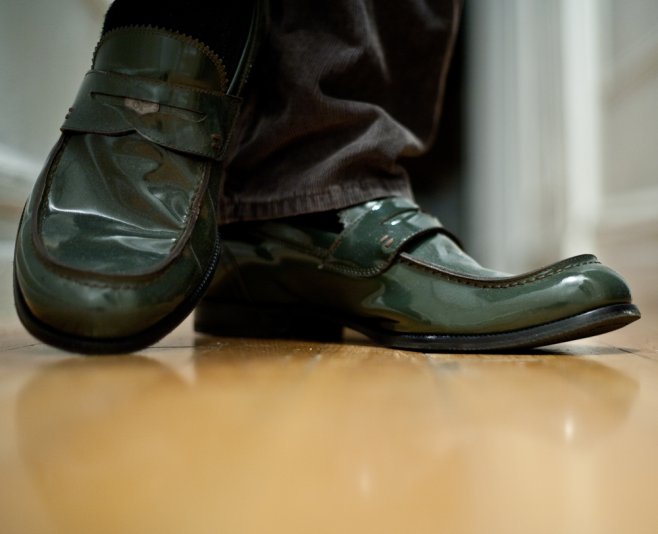 I couldn't help but post photos of the shoes that I wore out last night. Yes, two photos of my shoes.
"What is happening to this blog?", a reader might be asking themselves as they scroll down from one photo of green shoes to the next. The answer is– I don't really know what is happening to it. The story behind the shoes is: Reagan picked them up for me last summer at one of the Bottega Veneta sample sales that she goes to. They have been sitting in my closet since then. I had only worn them once before last night. In fact, I had kind of forgotten about them. Then, last night as I was debating on what to wear out, there were the loafers blinding me with the green light that was reflecting off of that patent leather. Hahahaha. It was like destiny. Since I don't own the green Rolie from the previous post, I had to rock some green loafers instead.
Now that the nonsense is out of the way. Let's get down to brass tacks. As we all know, things are still not going well at all for the folks in Japan. There are a lot of bloggers who are doing this day of blog silence thing, which I think is cool. But, I have decided go a different route in acknowledging that I am still thinking and worrying about the Japanese. Similar to last Friday, I'm going to share some links that I found inspiring, relating to the events that are unfolding in Japan. Maybe someone else will also be inspired.
On a more lighthearted note, don't miss the "Super Moon" this weekend. I'm hoping for clear skies on Saturday night.  Don't get me started about how excited I am for GP on Sunday. Have a great weekend!