06.08.2011
As far as value in dollar amount, this is surely the most valuable swag that I am giving away, so far. Up for grabs is a Manfrotto gear toting messenger bag. This was a promotional take away from a soiree that the brand threw in NYC last month. The bag in the image above is the one that I'm unloading. It is brand new, never used.
I have one that I have also kept for myself. I brought it with me on our recent excursion across the pond. Here are some photos of my bag, to illustrate how great this thing is–
In addition to having a flip top with a clasp and velcro, quick access is also possible through a zippered top. The main compartment has two adjustable padded walls and a laptop sleeve. You could easily fit two bodies and multiple lenses, as well as a strobe, in the main section.
The front of the bag has a zipper pocket that is perfect for holding memory cards, cables and batteries.
As a bonus, the kit includes a pocket tripod. This thing is super cool and pretty heavy duty.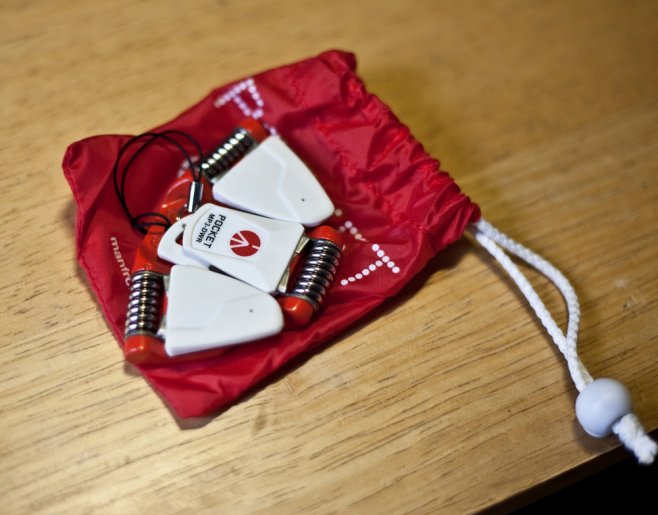 I had this thing locked to the bottom of my camera basically the entire time that we were in Europe recently. It is immensely helpful for composing a timer or remote shot on the fly. It folds up so nice that the extra bulk on the camera body is nominal.
As if that weren't enough, the lower compartment houses a full height ball-head super light aluminum tripod. If you have ever priced Manfrotto tripods, then you understand the value of this piece, alone. I found that there is enough extra room that I could fit my computer charger and cable in there as well.
Ok, so just to clarify what all is being given away here:
1 Manfrotto bag.
1 Manfrotto pocket tripod.
1 Manfrotto ball-head tripod.
(cameras, lenses and other gear in the photos are not part of the giveaway).
My favorite part about this bag is that it doesn't really even look like a camera bag.
I feel like this is a pretty cool giveaway. Because of that, I'm going to make the rules a little bit different than previous times. As with the previous giveaways, enter by leaving a comment. In the comment, tell me in what scenario you see yourself using this kit. Flipping it on eBay or CL is not an acceptable response. Before leaving the comment, please use one of the easy share buttons (which I added just for this giveaway) below to share a link to this post on the social network, blogging/microblogging platform of your choice. If you tweet, please drop #jakesnewblog somewhere in the tweet. Enter up to two times, by sharing links in multiple locations. I hope that this isn't too complicated. Why all of the extra work? Honestly, I'm starting to toy with the idea of monetizing JNB. I'm still not sure if I will ever go through with it. But, I figure that helping me publicize this page seems like a fair trade for a chance to win such a great kit. No?
I'll close comments and choose a winner toward the end of the month. Probably the second to last week of June. Good luck!